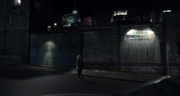 4400 Pier Avenue
is a warehouse in Brooklyn where
Georgie Sutton
organized a resistance meeting against the visitors.
Erica Evans
goes to the warehouse and infiltrates the meeting in the hopes of exposing a terrorist sleeper cell that she has been tracking. Father
Jack Landry
is also drawn to the warehouse after one of his parishioners died and left him a package to deliver to the meeting. Before the meeting started Georgie instituted a security precaution where a doctor performed a procedure where they would peel back a person's skin until humans go bone was seen. Georgie then began explaining the history of the visitors on history on earth. The meeting was interrupted by an attack from a
Seeker
. A visitor raid led by sleeper agent
Dale Maddox
shortly followed. The visitors had excessively managed to kill most of the humans in the warehouse but Erica, Jack, and Georgie were able to escape and was severely injured. The visitors later send a cleaning crew to conceal any evidence of the attack. ("
Pilot
")
A day later when Dale was labeled missing the FBI went to the warehouse in order to investigate. During the investigation, Erica take steps to cover up her involvement in the resistance meeting massacre and is able to recover her badge and gun from Dale's car and ("There Is No Normal Anymore")
Community content is available under
CC-BY-SA
unless otherwise noted.