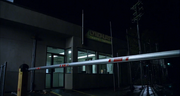 The
Lyndhurst Shipping Company
is a front company that is used by a sleeper cell of Visitor scientists. A secret lab with set up in the company's warehouse where the scientists developed the
R6 compound
. The scientists would then inject the compound into flu shots that were distributed to the population.
Erica Evans , Ryan Nichols , and Jack Landry discovered that the Lyndhurst Shipping Company was connected to the Visitors after looking through Peter Combs' notes. They set out to investigate the facility and were able to sneak in and Ryan activated Protocol 9 which temporarily tricked the visitor's security to retreat to an off-site rally point. The team then discovered R6 injections and the tainted flu shots. Eventually, the Visitor security team returned and attempted to apprehend the intruders. Ryan was able to activate the facility's failsafe which caused an explosion that destroyed the warehouse and the Visitors'experiments.("It's Only the Beginning")
Community content is available under
CC-BY-SA
unless otherwise noted.