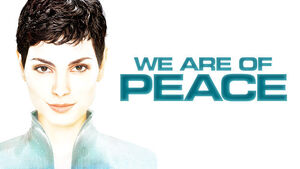 The Ambassador Program gives exclusive access to those who register at ABC.com. Join as a Peace Ambassador or a member of the Resistance. Each side will receive unique content and updates. Choose a side today!
Peace Ambassador Program
Edit
The Peace Ambassador Program gives you insider access to exclusive content available only to those who join and register at ABC.com. By becoming a Peace Ambassador, you will get the latest breaking news about the Visitors.
A video from Anna and a video from Lisa were recently uploaded onto the site. The videos read:
"Thank you for visiting. We appreciate the brave step you have taken to express your interest in learning more about us. Your presence today shows you believe that we can both serve eachother. By sharing your world's natural resources with us we offer our immense knowlege and technology to benefit all of mankind. This is your oppurtunity. By joining the Peace Ambassador Program you will show others you still believe a better world is possible. As a Peace Ambassador, you will act as a symbol of hope for others who are not yet ready to believe. Help us usher in a new day for the whole world. I now invite you to join our Peace Ambassador Program and discover for your self what great possibilities lie ahead."
"Hey! My name's Lisa, a visitor Peace Ambassador. So, have you ever wondered what it would be like to be in a real spaceship? Well, if you're watching this, you could be one of the select few that makes the cut. Kind of like on Dancing with the Stars except you don't have to be a celebrity. We're looking for people like you to come and check out our ship and then go back and tell everyone where you're from what you saw. Now, I know what you're thinking, and don't worry. We're looking for cool people with an open mind who are willing to spread our message of peace and hope. There's a lot of people who are scared, and we want you to help us tell them that it's alright, that we're here only to make things better. So are you up for the challenge. If so, join the Peace Ambassador Program. It's easy. If you're 18 or older just sign up and you're in. We'll contact you. If you're under 18, you gotta' get a parent's signature so download a pamphlet and bring it to any visitor embassy. Thanks, and as we V's say, we are of peace, always."
The Resistance Movement
Edit
Thank you for joining the Resistance. As a member, you'll get intel and exclusive content related to those opposing the Visitors. With your help, we're one step closer to exposing the Vs!