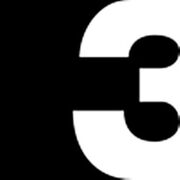 TV3 will air V in Ireland as part of their new fall line-up.
TV3 is a free-to-air television channel in Ireland, and was the country's first commercial broadcaster. It launched on September 20, 1998.TV3 is operated by the TV3 Group which also consists of 3e and tv3.ie. The main studios of TV3 are located in Ballymount, Dublin.
The channel broadcasts 24 hours each day. It relies heavily on international programming, in particular much of its prime time schedule is filled with shows from the UK's ITV under a long term contract. Under their contract with the Broadcasting Commission of Ireland (BCI) TV3 are required since 2008 to have 30% of their programming coming from Ireland, TV3 have done this through their Daytime schedule producing nearly 7 hours a day of live programming. They have a small staff of 200 employees to run two TV channels and one on-demand online service. This often means that the quality of programming isn't of high standard and is relatively cheap to make, on average TV3 spend about €10million on in-house productions which are generally aimed at the daytime market. They do not have a history of strong prime-time content, generally their home produce shows consist of at least one Independently produced show e.g. The Apprentice, a number of in-house documentaries such as Ireland Undercover and a number of BCI licence fee funded Independent products such as School Run,Diary of... and Modern Ireland.
TV3 will air V shortly after the American broadcasting. The date and time of broadcasting of V on TV3 is still to be announced however they have started showing clips of V in their fall line-up advertisements.