The Resistance is an organization created in order to prevent the Visitors from conquering Earth.
About
[
]
History
[
]
The fledgling resistance movement had its roots prior to the first appearance in the pilot, when multiple people were killed as a result of its activities. This may be the reason why Ryan originally left the group.
Georgie lead the first meeting, and encouraged recruitment. During this meeting, new members had the flesh behind their left ear anesthetized and cut open in a V-shaped flap to reveal their skull, to distinguish them from the Visitors. ("Pilot")
After the massacre that occurred at the first meeting, Georgie is more reluctant to recruit, while Ryan takes a more active role.
The Resistance has gain forces with the Fifth Column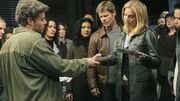 Members
[
]
Main Article List Of Resistance Members
Active Members
[
]
Inactive Members
[
]
Meeting Locations
[
]
Activities
[
]
See Also
[
]